England, the country that invented football, reached the summit of the global game on home soil in 1966 after defeating West Germany in one of the most exciting, and controversial, of all FIFA World Cup™ Finals.
Geoff Hurst was the hero of England's 4-2 Wembley triumph after completing a unique Final hat-trick with two extra-time goals, although doubts over the legitimacy of his second strike – which cannoned down off the underside of the crossbar and was adjudged by assistant referee Tofik Bakhramov to have landed behind the goalline – remain to this day.
It was not the only controversy of a tournament which the main South American contenders departed complaining bitterly and which featured other notable subplots in Korea DPR's sensational elimination of Italy and a memorable show of scoring power by Portugal's Eusebio, the nine-goal winner of the Golden Shoe.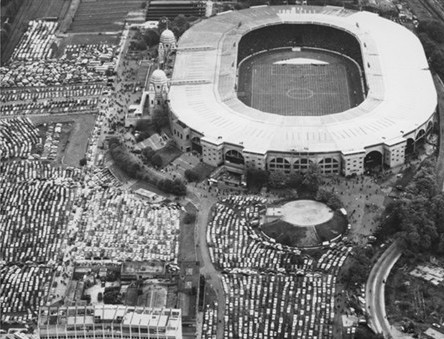 Ramsey's vision
For England, the 1966 showpiece offered the opportunity to finally make their mark on the FIFA World Cup. Having come to the party late, their debut at the 1950 finals had brought embarrassment with defeat by the United States. Alf Ramsey, a defender in that 1950 team, became manager in 1963 with the aim of taking England into the modern age – which, for a start, meant no more team selection by committee. Ramsey championed unfashionable, hard-working players and his rejection of the 4-2-4 system in favour of 4-4-2 earned his side the sobriquet 'Wingless wonders'.
Key to their prospects were the two Bobbys, stylish central defender Moore and goalscoring midfielder Charlton, but they made an uninspiring start in a goalless Opening Match against Uruguay. Indeed the biggest talking point of their first-round campaign was a foul by Nobby Stiles on France's Jacques Simon which led some Football Association officials to request that Ramsey drop the tigerish midfielder – a request he ignored.
There was a false start from the organisers too with the theft of the Jules Rimet Cup. Stolen from an exhibition, it was found by a dog named Pickles under the hedge of a suburban garden in south-east London. Pickles was not the only furry hero of these finals for the FIFA World Cup had its first mascot, a lion called World Cup Willie.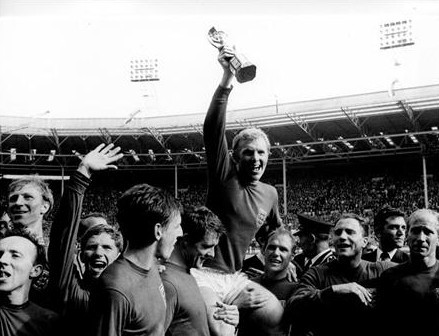 It was in the north of England that the event really caught the imagination in the first round. In Liverpool, Brazil opened the defence of their crown with a 2-0 win over Bulgaria, Pele and Garrincha both scoring – and becoming, in the process, the first players to find the net in three successive FIFA World Cups. Yet that was as good as it would get for the holders.
A victim of some tough Bulgarian tackling, Pele missed Brazil's subsequent 3-1 loss to a Hungary team who, inspired by Florian Albert, delivered the South Americans' first defeat on the world stage since 1954. Although he returned for their third match against Portugal, Pele's threat was neutered by a cynical challenge by Morais and Otto Gloria's Portuguese took full advantage, Eusebio scoring twice in a 3-1 victory. It was the third straight win for the tournament newcomers yet Eusebio, the reigning European Footballer of the Year, had only just begun.
Koreans provide surprise
Next up for Portugal were the North Koreans, the finals' surprise package. They had qualified by beating Australia after the other Asian and African nations withdrew, protesting the decision to allow only one qualifier from their continents. A revelation with their skilful, fast-flowing football, they stunned Italy in their concluding group match, Pak Doo Ik's solitary goal at Ayresome Park catapulting them into the quarter-finals and sending the Azzurri home to a barrage of rotten tomatoes.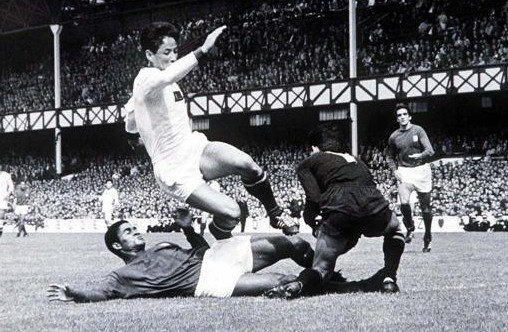 In a remarkable quarter-final at Goodison Park, the North Koreans threatened another upset by sweeping into a 3-0 lead inside 25 minutes. Yet remarkably they finished 5-3 losers after Eusebio dragged Portugal up off the floor, turning the game around almost singlehandedly with a virtuoso display that had brought him four goals by the hour mark.
Portugal eventually had to settle for third place after succumbing to two Bobby Charlton efforts in a semi-final against England where Eusebio, despite a late spot-kick, struggled to escape the shackles of Stiles. The hosts had previously won a bad-tempered quarter-final against Argentina – Hurst justifying his selection ahead of Jimmy Greaves by heading the only goal after Argentina captain Antonio Rattin's dismissal – and now only West Germany stood between them and the prize.
Helmut Schoen's side featured the 20-year-old Franz Beckenbauer, scorer of four goals en route to the Final – including two on his tournament debut in a 5-0 humbling of Switzerland. After Uwe Seeler's late winner against Spain had secured them first place in their group, the Mannschaft subsequently overcame Uruguay and Soviet Union sides both reduced to nine men by red cards. Helmut Haller and Beckenbauer beat the great Soviet goalkeeper Lev Yashin in their 2-1 semi-final success and it was Haller who would open the scoring in the Final.
Yet 30 July 1966 proved England's day. Although Wolfgang Weber silenced Wembley with an 89th-minute equaliser just when the hosts, leading through goals by Hurst and Martin Peters, seemingly had the game won, Ramsey's men came again, driven on by their youngest player, indefatigable midfielder Alan Ball. Hurst, who had registered only one international goal prior to the finals, netted twice more in extra time and it finally was all over.
Teams:
16
When:
11 July 1966 to 30 July 1966
Final:
30 July 1966
Matches:
32
Goals Scored:
89 (Avg 2.8 per match)
Attendance:
1,635,000 (Avg 51,093)
Winner:
England
Runners-Up:
Germany FR
Third:
Portugal
Fourth:
Soviet Union
Golden Shoe:
1: EUSEBIO (POR)
2: Helmut HALLER (GER)
3: Franz BECKENBAUER (GER)
3: Ferenc BENE (HUN)
3: Geoff HURST (ENG)
3: Valeriy PORKUJAN (URS)