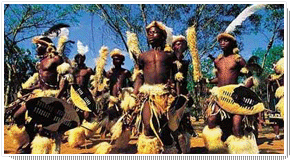 South Africa, with its rich history and multitude of cultures, is a land of possibility and opportunity. Its biggest asset is undoubtedly its diverse mix of people proud of their heritage and the country's remarkable achievements during the First Decade of Freedom.
The country boasts some of the world's most breathtaking scenery, and features an amazing display of bird and wildlife species, including the Big Five (lion, leopard, elephant, buffalo and rhino).
South Africa is often called the Cradle of Humankind, for this is where archaeologists discovered 2.5-million-year-old fossils of our earliest ancestors, as well as 100 000-year-old remains of modern man.