Italy became world champions for the third time in 1982, their triumph on Spanish soil made memorable by the scoring feats of six-goal striker Paolo Rossi and an iconic celebration by Marco Tardelli. The romantic-minded may have shed a tear for Brazil and France – unlucky losers in two of the finest matches of any FIFA World Cup™ – but few begrudged Enzo Bearzot's men a 3-1 victory over a rugged West Germany team in a Final in which Rossi's opening goal secured him the Golden Shoe to complete a personal redemption story even more dramatic than the Italians' revival after a faltering start.
Rossi had barely returned from a two-year ban from football – the result of his involvement in a match-fixing scandal – when the finals began and he failed to find the net in any of Italy's three group games, all of them drawn. Indeed the Italians only advanced ahead of Cameroon because they had scored one goal more. They came good when it counted, though, eliminating favourites Brazil in the second round thanks to a hat-trick from Rossi, who then struck twice more in the semi-final against Poland.
Italy's other heroes included 40-year-old goalkeeping captain Dino Zoff and 18-year-old full-back Giuseppe Bergomi. Yet while Bergomi became the youngest Italian to appear on the world stage, Northern Ireland's Norman Whiteside surpassed Pele's record as the youngest player in the tournament's entire history – aged 17 years and 41 days. And his team provided one of the main shocks by beating Spain 1-0 to reach the second round.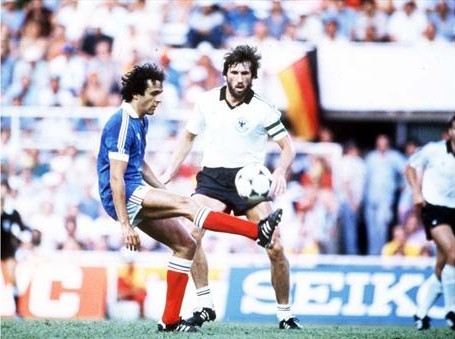 The 12th FIFA World Cup was the last to feature a fully leather ball but it broke new ground as the first involving 24 teams rather than 16. It also had a new format, incorporating three distinct phases: a first round comprising six groups of four teams, with the top two from each progressing; a second round with four groups of three from which the top team advanced; and then the semi-finals and Final.
Algeria upset Germany
The Netherlands, runners-up in 1974 and '78, were the most prominent casualties of a qualifying campaign which yielded six first-time finalists: Algeria, Cameroon, El Salvador, Honduras, Kuwait and New Zealand. Two of that number made a significant impact in a first round which began with a surprise loss for holders Argentina, 1-0 against Belgium in Barcelona.
Algeria then provided an even bigger upset by defeating European champions Germany 2-1 in their opening game, Rabah Madjer and Lakdar Belloumi, African Footballer of the Year, the scorers. Despite also defeating Chile, the Algerians were eliminated on away goals after Germany enjoyed an all-too-comfortable victory over Austria which allowed both European teams to advance. One consequence of the controversy was that in future tournaments, concluding first-round games would kick off at the same time.
Cameroon could curse their luck too, heading home unbeaten after holding both Italy and a Poland side destined for third place. Honduras drew with the disappointing hosts Spain but for another of the new faces, El Salvador, there was embarrassment: they became the first side to ship ten goals in a FIFA World Cup game, losing 10-1 to Hungary for whom substitute Lazlo Kiss struck a hat-trick in record time (between the 69th and 76th minutes).
Brazil dazzle
The real stars of the first round were Tele Santana's Brazil. Widely considered the South Americans' best side since 1970, their strengths lay in a multi-talented midfield that featured Zico, Falcao, Socrates and Eder – the last two contributing a superb goal apiece in an opening 2-1 comeback victory over the Soviet Union.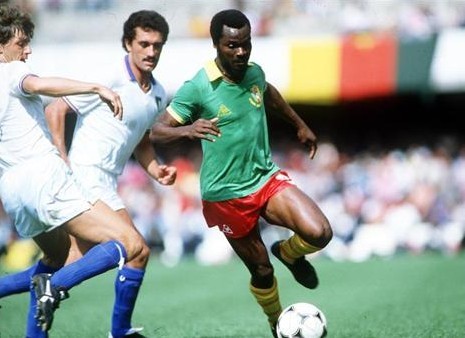 Brazil eliminated arch-rivals Argentina with a 3-1 triumph in their first second-phase game – Diego Maradona's frustration boiling over late on when he kicked Batista and was sent off – and went into their second fixture against Italy needing only a draw to secure a semi-final berth. But despite goals from Socrates and Falcao, Rossi's hat-trick sent them home. Missing the suspended Zbigniew Boniek, Poland offered the Italians little resistance in the semi-final but the same could not be said of France in their epic duel with Germany in Seville.
A match rendered infamous by Harald Schumacher's unpunished assault on France substitute Patrick Battiston – knocked unconscious by the Germany goalkeeper as he chased a through-ball – it was also the first in the FIFA World Cup to be decided by penalties after the Germans retrieved a 3-1 deficit in extra time. After Schumacher had saved from Maxime Bossis, Horst Hrubech scored to ensure heartbreak for a French team who, driven by midfield maestros Michel Platini, Jean Tigana and Alain Giresse, had reached their first semi-final since 1958.
Jaded by that gruelling contest, Jupp Derwall's team were second-best to Italy in the Final at the Santiago Bernabeu. The Azzurri shrugged aside a first-half Antonio Cabrini penalty miss as Rossi, Marco Tardelli and Alessandro Altobelli put Germany to the sword after the break. Breitner registered a late consolation but by then Tardelli had already provided the abiding image – racing away, arms pumping and screaming his joy to the world.
Teams:
24
When:
13 June 1982 to 11 July 1982
Final:
11 July 1982
Matches:
52
Goals Scored:
146 (Avg 2.8 per match)
Attendance:
2,109,723 (Avg 40,571)
Winner:
Italy
Runners-Up:
Germany FR
Third:
Poland
Fourth:
France
Golden Shoe:
1: Paolo ROSSI (ITA)
2: Karl-Heinz RUMMENIGGE (GER)
3: ZICO (BRA)
Golden Ball:
1: Paolo ROSSI (ITA)
2: FALCAO (BRA)
3: Karl-Heinz RUMMENIGGE (GER)
FIFA Fair Play award:
1: Brazil