Losing finalists at the very first FIFA World Cup™, Argentina's footballers reached the pinnacle on home soil 48 years later, propelled by the goals of Golden Shoe winner Mario Kempes and the fervour of their impassioned followers, whose snowstorms of shredded blue and white paper, swirling inside the stadiums in Buenos Aires and Rosario, offered a defining image.
Amid Argentina's celebrations, there was sympathy for the Netherlands, runners-up for the second tournament running, following a 3-1 Final defeat at the Estadio Monumental. After Dirk Nanninga's header had equalised Kempes's first-half opener, the Dutch came within a whisker of winning when Rob Rensenbrink struck a post in the dying seconds of normal time. Destiny beckoned a reprieved Argentina, however, and Kempes and Daniel Bertoni seized the glory with extra-time strikes.
Kempes, the only foreign-based player in Argentina's squad, entered the tournament as the leading scorer in Spain with Valencia, and ended it with six goals – this despite his failure to find the net in the first round. He was not alone in a stuttering start: Cesar Luis Menotti's hosts defeated Hungary but were then fortunate to overcome France 2-1 before surrendering top spot in the section by losing 1-0 to Italy. Yet Menotti, who had omitted the 17-year-old Diego Maradona from his squad, would eventually earn the optimum reward for a philosophy of skilful, attacking football embodied by graceful little midfielder Osvaldo Ardiles.
African first, Scottish slalom
The opening phase witnessed a first African victory in the FIFA World Cup – debutants Tunisia beating Mexico 3-1 – while fellow newcomers Iran gained a point against Scotland. The only British representatives, Scotland recovered to defeat the Netherlands 3-2 in their final group fixture in Cordoba. Archie Gemmill conjured up a magical goal after a slaloming run around three defenders yet the Scots still departed early, the Dutch squeezing through on goal difference.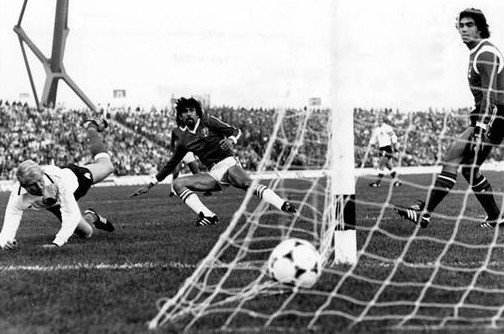 If Scotland's campaign was marred by Willie Johnston's failed doping test, this was a tournament touched by a bigger controversy, taking place as it did against the backcloth of Argentinian leader General Jorge Videla's oppressive military regime. There were other upsets: Brazil's players were unhappy when Welsh referee Clive Thomas blew for full time an instant before Zico's header crossed the line in a 1-1 first-round draw with Sweden; off the pitch, Argentina attacker Leopoldo Luque opted to play on despite the death of his brother in a car crash.
Arguably the best team to head home early were France, who caught the eye for more than the unfamiliar green-and-white striped shirts – loaned to them by local club Kimberley – which they wore against Hungary after a mix-up over kits. The 21-year-old Michel Platini, in particular, served notice of his impressive ability, striking his first goal on the world stage against Argentina.
As in 1974, the last eight teams split up into two sections and from Group A, it was the Netherlands who advanced to the final. Coached by the Austrian Ernst Happel, a former European champion with Feyenoord, they were missing Johan Cruyff – their long-time inspiration had chosen to miss the finals – and Wim van Hanagem, a last-minute withdrawal, yet only Kempes delivered more goals than Dutch forward Rensenbrink and after they had beaten Austria and held holders West Germany, the Oranje came from behind to overcome Italy in their final, decisive group match. Ernie Brandt scored at both ends before Arie Haan's long-range drive sent the Dutch through. On the same day, Hans Krankl fired Austria to a first victory for 47 years over the eliminated West Germans.
Brazil outgunned
Enzo Bearzot's Italy earned experience here that would serve them well four years later in Spain – and striker Paolo Rossi's three goals offered a hint of things to come from him – but they were denied bronze by the tournament's one unbeaten team, Brazil. The South Americans boasted a striker named Roberto Dinamite – not to mention a full-back, Nelinho, capable of outrageous, swerving strikes – but they had to settle for third place after being outgunned by arch-rivals Argentina in Group B.
After playing out a bad-tempered stalemate, the South American pair went into their deciding fixtures with three points each, and Brazil's subsequent 3-1 victory over Poland left Menotti's men needing to beat Peru by a four-goal margin later that day to reach the Final. With Teofilo Cubillas prominent, the Peruvians had beaten Scotland and held the Dutch in the first round but now they were already eliminated and Argentina ran riot, recording a 6-0 win. Among the scorers were Kempes – whose scoring touch had returned with the team's second-round relocation to his home city of Rosario – and Luque with two apiece.
Events that night ensured that in future, final group matches would kick off at the same time. The immediate consequence, however, was an Argentina-Netherlands Final on 25 June 1978. "Tulips in the Pampas?" asked French newspaper L'Equipe on the eve of the game. Instead it was tears once again for the team in orange as Albiceleste captain Daniel Passarella became the first Argentinian to hold aloft football's most famous prize.
Teams:
16
When:
01 June 1978 to 25 June 1978
Final:
25 June 1978
Matches:
38
Goals Scored:
102 (Avg 2.7 per match)
Attendance:
1,546,151 (Avg 40,688)
Winner:
Argentina
Runners-Up:
Netherlands
Third:
Brazil
Fourth:
Italy
Golden Shoe:
1: Mario KEMPES (ARG)
2: Teofilo CUBILLAS (PER)
3: Rob RENSENBRINK (NED)
FIFA Fair Play award:
1: Argentina