Brazil built the planet's biggest football stadium as a breathtaking stage for the 1950 finals but their hopes of consecrating the cavernous, three-tiered sporting cathedral of the Maracana with a first world title were shattered in one of the competition's great surprises.
In a FIFA World Cup™ that concluded with a four-team mini-league, the hosts met Uruguay in a deciding fixture which proved a final in all but name. Needing only to draw, Brazil led through Friaca's 47th-minute strike before Uruguay turned the game on its head via goals from Juan Schiaffino and Alcides Ghigghia. A deathly hush descended on the Maracana as some 200,000 voices fell silent and Brazil's little neighbour to the south celebrated a second world crown.
Uruguay, winners of the inaugural FIFA World Cup, had played only one match – beating Bolivia 8-0 – to reach the final stage yet for the third game running Ivan Lopez's charges had shown their resolve by coming from behind to record a triumph which inspired a new noun in Spanish, Maracanazo, still used today to signify a defeat for a Brazilian team by foreign rivals at the famed stadium.
This was the first FIFA World Cup since the end of the second world war. Throughout that conflict the prized trophy had laid hidden in a shoebox under the bed of the Italian FIFA vice-president, Dr Ottorino Barassi. Now, with peace restored, it was renamed the Jules Rimet Cup to celebrate the event's survival.
Thirteen finalists
That there were only 13 teams in Brazil was down to the absence of countries from eastern Europe and a series of high-profile withdrawals, notably from Argentina and France – the latter in objection to an itinerary that would have involved a 3,500km journey between fixtures.
While England were present for the first time after winning the British Home Championship, Scotland – who earned the right to travel after finishing second – declined the opportunity, as did another qualified team, Turkey. India, meanwhile, said no because FIFA would not let them play in bare feet. Uruguay were among five South American participants who had not played a single qualifier between them.
The tournament featured an unusual first-round format with the 13 sides split into two groups of four, another group of three and a fourth section comprising just Uruguay and Bolivia. If the Maracana was a monument to Brazilian ambition, there were high hopes that Flavio Costa's hosts would match its wow factor on the field and they opened the finals with a 4-0 win over Mexico.
A subsequent 2-2 draw with Switzerland left them needing victory in their final pool game against Yugoslavia and the South American champions enjoyed a stroke of fortune when opposition forward Rajko Mitic hurt his head as he walked up the stairs to the Maracana pitch. He was still receiving treatment when Ademir gave Brazil an early lead, later doubled by Zizinho.
While Brazil progressed, holders Italy bowed out after succumbing 3-2 to Sweden. The Scandinavian amateurs had lost key trio Gunnar Gren, Gunnar Nordahl and Nils Liedholm to Serie A after their 1948 Olympic triumph yet George Raynor's men still had enough to better the Italians, stripped of the core of their squad by the previous year's Superga air crash, which claimed the lives of 19 Torino players.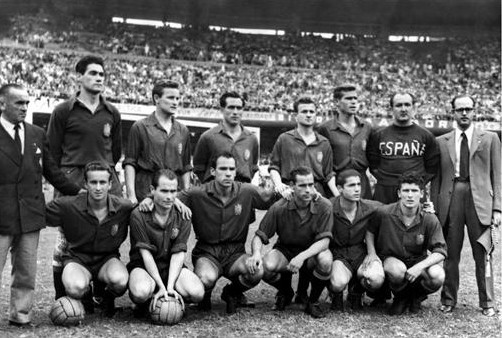 US shock England
Raynor, whose Sweden team finished third, was the only Englishman with anything to smile about given the humiliation suffered by England's footballers on their first finals appearance. The game's founders had arrived ill-prepared and they paid the price in Belo Horizonte where they suffered a 1-0 defeat by the United States. Coached by Scotsman Bill Jeffrey, the Americans had led Spain for much of their curtain-raiser before shipping three late goals but now, with a helping hand from Lady Luck, they held on to the advantage given them by Haitian-born Joe Gaetjens' first-half goal.
Back in England newspapers thought the result a typing error and changed it to 10-1. The reality was that England – whose team included Alf Ramsey, future architect of their 1966 triumph – were bound for an embarrassingly early exit, duly confirmed by a 1-0 reverse against Spain, Zarra the scorer.
So to the final round where Brazil made a flying start by thrashing Sweden 7-1 with four goals from Ademir, the tournament's eight-goal leading marksman. A subsequent 6-1 rout of Spain left the Brazilians with one hand on the trophy going into the decider against a Uruguay side who had needed to retrieve half-time deficits to hold Sweden 2-2 and overcome Spain 3-2.
Although Uruguay had won one of the countries' three friendly meetings two months before, such was the prevailing confidence in Brazil that the front-page headline in Sao Paulo's Gazeta Esportiva before the match read: "Tomorrow we will beat Uruguay!" The mayor of Rio proclaimed Brazil world champions prior to kick-off and few souls in a crowd officially estimated at 174,000 – but more likely to have reached 200,000 – would have anticipated otherwise.
Brazil took an expected lead as star attackers Zizinho and Ademir fashioned an opening for Friaca. But Uruguay, driven forward by captain Obdulio Varela, equalised in the 66th minute when Gigghia beat Bigode down the right and centred for Schiaffino to score. Then, with eleven minutes remaining, came the unthinkable: Gigghia burst past Bigode again and beat Barbosa at his near post to leave the Celeste in dreamland – and Brazil in despair.
Teams:
13
When:
24 June 1950 to 16 July 1950
Final:
16 July 1950
Matches:
22
Goals Scored:
88 (Avg 4.0 per match)
Attendance:
1043500 (Avg 47,431)
Winner:
Uruguay
Runners-Up:
Brazil
Third:
Sweden
Fourth:
Spain
Golden Shoe:
1: ADEMIR (BRA)
2: Estanislao BASORA (ESP)
2: Oscar MIGUEZ (URU)